The Blog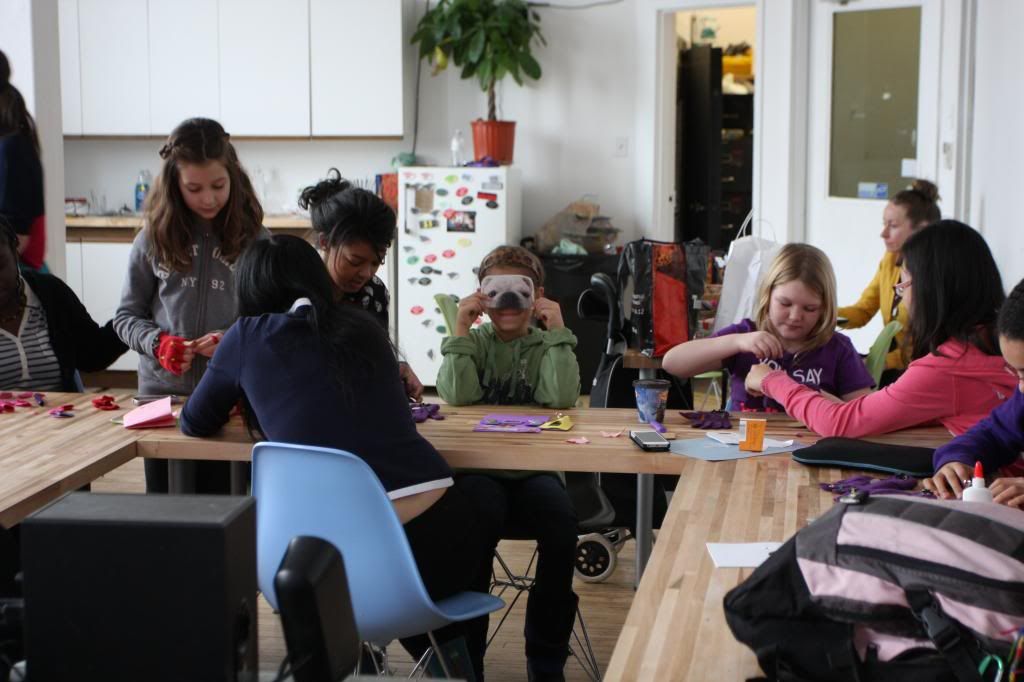 For the last three days of winter break, Girls Learning Code hosted a "Toy Hacking Camp" that was full of fun and adventure.  The purpose of the camp was to find new and creative ways to experiment with technology in a hands-on way. The highlights included a field trip, learning about electricity through creative crafts, experimenting with Arduino microchips, and various methods of 'toy hacking,' combined with exciting games. The girls who attended this workshop were eager to dive into these activities, put on their thinking caps and become inventors!
We could not have done this without the help of our dedicated volunteers. You can learn all about them in this blog post. The workshop was run by dedicated leaders Ashley Lewis and Laura Plant.  Ashley is a recent graduate from Ryerson University's New Media program, where she specialized in the act of integrating technology and art. This combination made a perfect base for creating a line up of fun interactive activities for our Girls Learning Code participants.
The first day of the workshop included a field trip to Site 3 coLabratory, a local community hack space at Bloor and Ossington.  The vision for Site 3 is to "Create, Display, Teach and Inspire,". The girls got a unique opportunity to witness this motto first hand during their demonstrations. Lindy Wilkins, active hack hobbyist and Site 3 member, gave us a tour of the facilities that included a 3D printer as well as a Laser cutter.  Our group was very excited to witness the Laser Etcher in action, and we were given a great souvenir to take with us!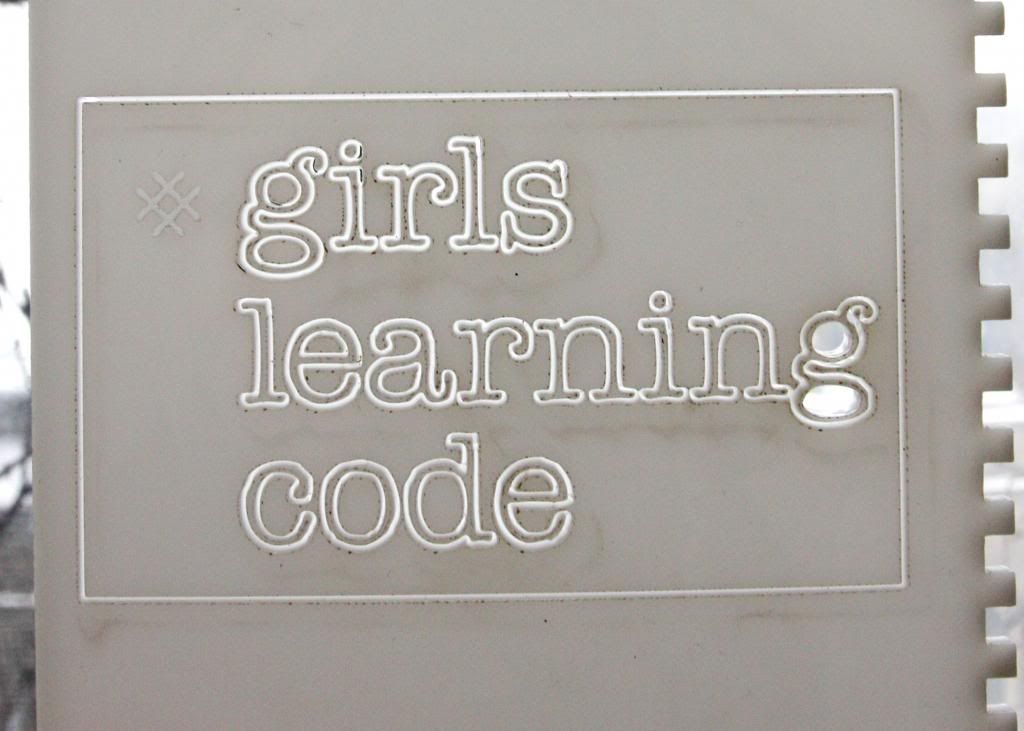 During the next two days, the girls worked on some fantastic inventions, the first one being a 'musical card hack.'  This activity involved removing the speaker and electrical circuit from a musical card, (such as the kind you might get for your birthday,) and re-purposing the device to create a singing badge!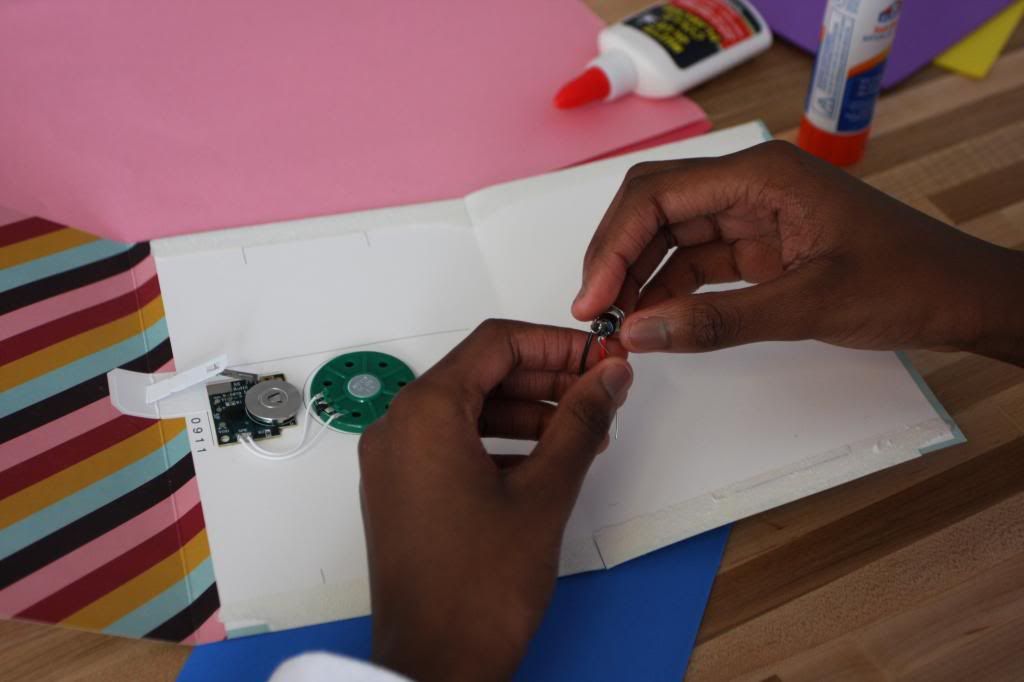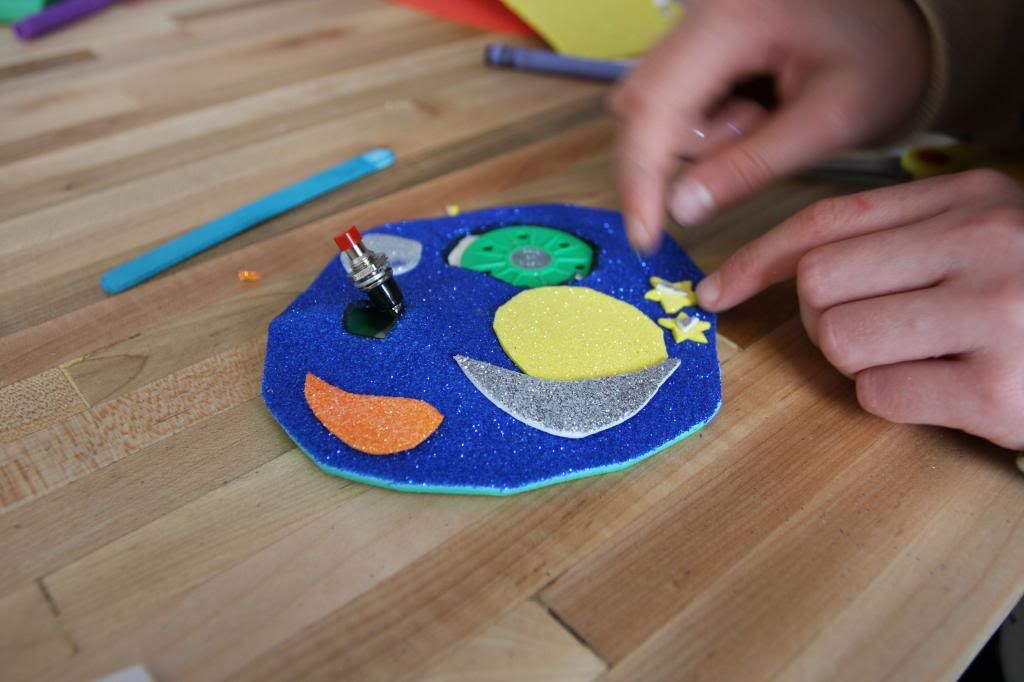 By wiring up a button to the mechanism, the girls learned all about the flow of electricity. The results were fantastic: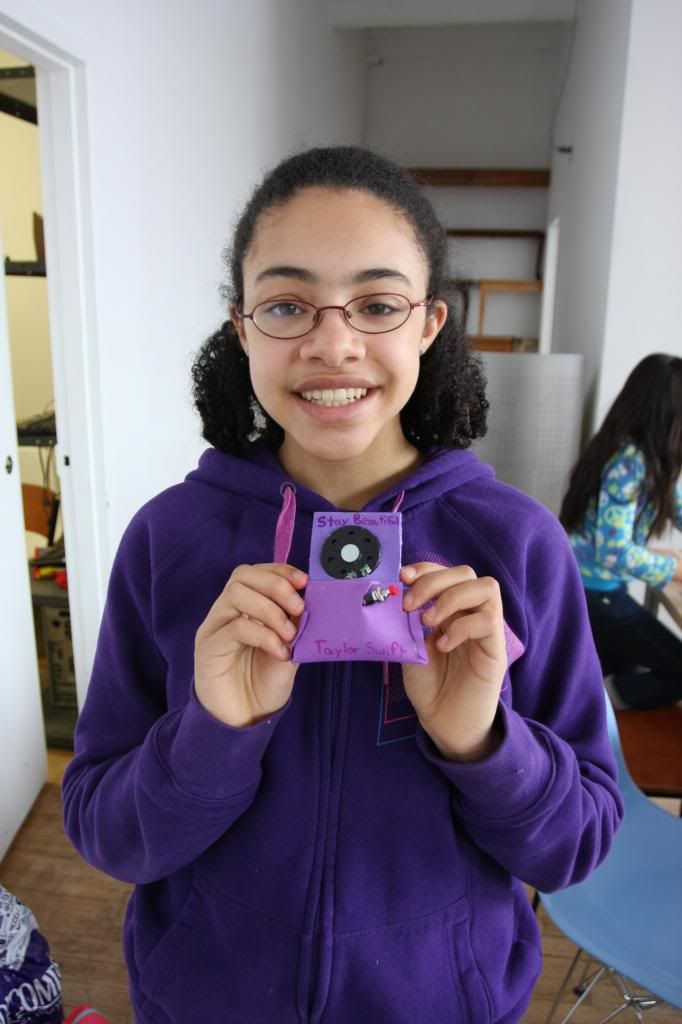 The most popular activity was the creation of the LED mittens.  This fantastic skill building challenge allowed the girls to built their own electrical circuits from scratch. Using conductive thread (a thread made from a very finely spun metal), the girls sewed LEDs onto a pair of mittens, wiring the positive and negative leads to the appropriate sides of a battery pack. The materials for this project included a pair of gloves, LED lights, an electrical resistor, a battery and battery pack, and conductive thread – who knew that it took so many items to create a circuit!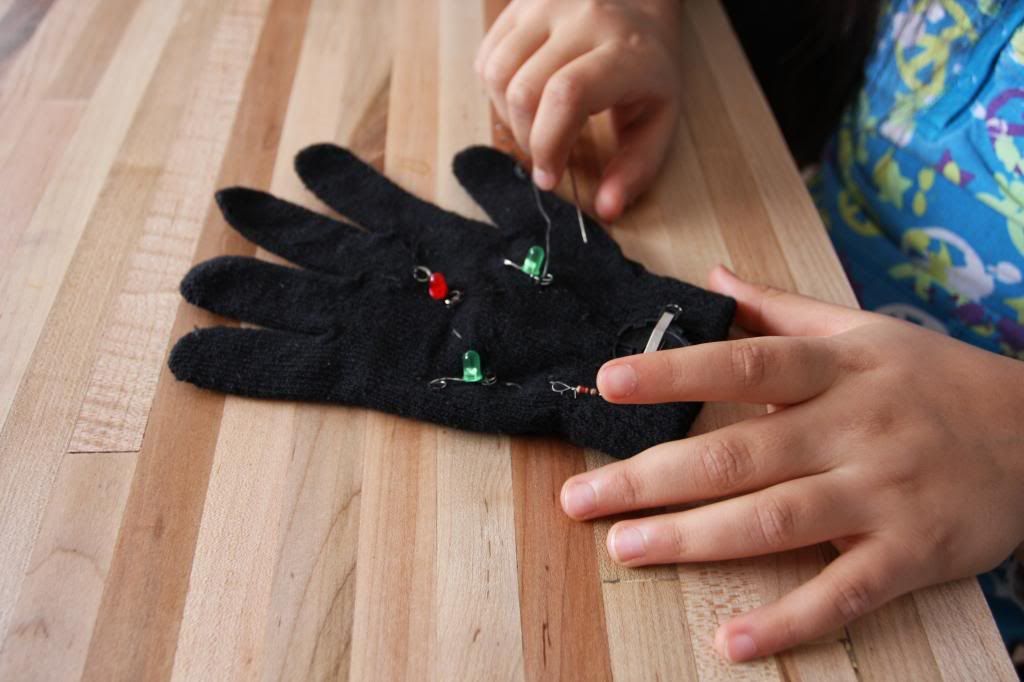 Both of these crafts were great activities that tested the girls understanding of electricity. Ashley helped the girls learn about all the ways to troubleshoot a circuit so that they could problem solve the electrical issues themselves.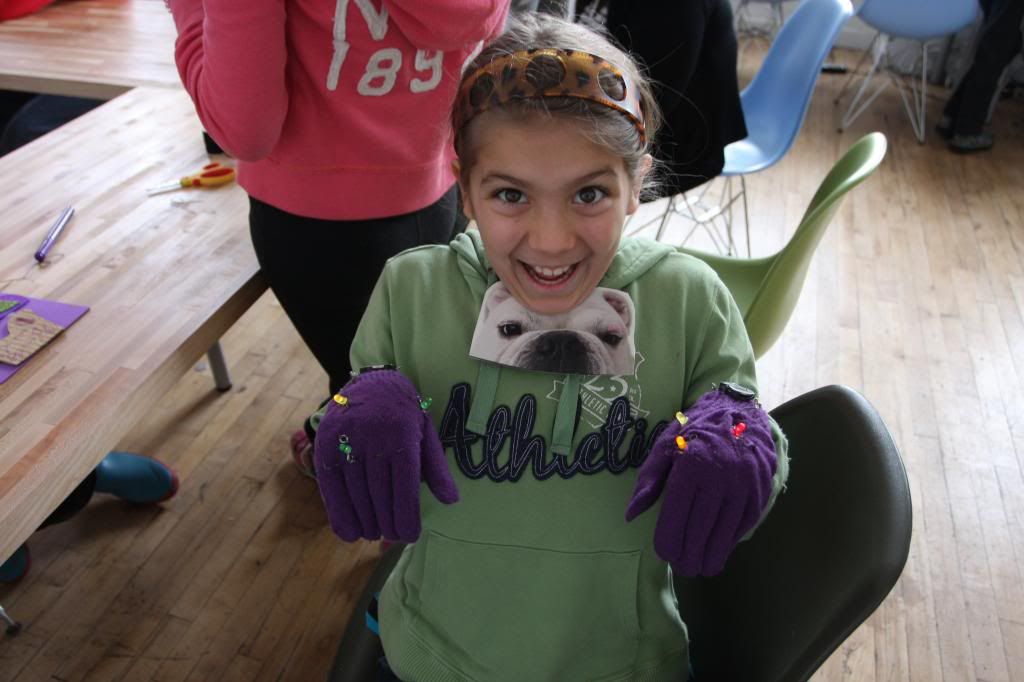 The last major activity was a literal toy hack!  The girls were given a table full of simple electronic and non electronic toys and encouraged to open them up and create their own creations. The girls, now versed in the art of inventing, really got a chance to let their imaginations shine!
They did everything from swapping the heads of two toys to taking the force sensor light system out of a plastic ball and putting it into a soft toy. This challenge pushed their creativity to the limit and there were some really interesting and fun results! Take a look!
Overall, it was an unforgettable experience for both the girls and the mentors. We hope that, as always, it inspired these young girls to see technology differently! Special thanks to all of the amazing mentors, our lead instructor Ashley Lewis, and Site 3 CoLaboratory for helping make our first Winter Camp a great success!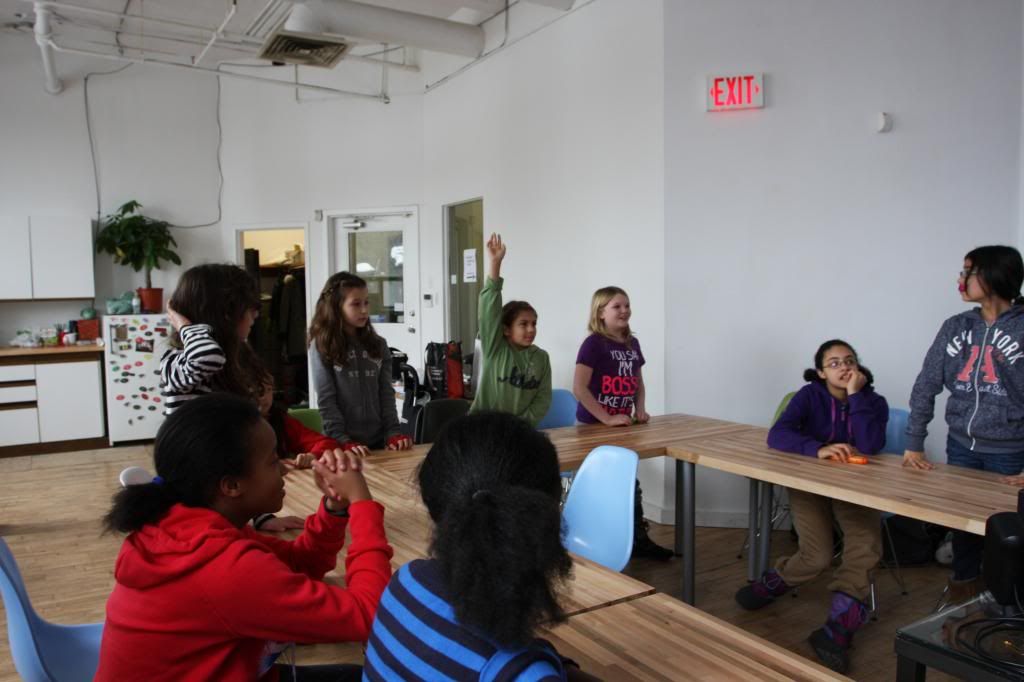 Thanks to the success of our first year, we are happy to announce a whole new line up of workshops! Take a look at some of the fun upcoming opportunities to get your girl interested in tech with Girls Learning Code:
3D Printing Extravaganza!
Come learn all about the world of 3D Printing in this hands on day of learning. Hot Pop Factory, an Independent Toronto based 3D Printed Jewelery making company, are going to show us how to design our own pendents/keychains using the free 3D modeling software, Mesh Mixer. Each girl will be able to take home a printed design of their own! Want to know more about what 3D printing is? Watch this helpful video.
Workshop Details:
When: Saturday January 19th, 2013 from 1:00pm – 4:00pm
Where: Ladies Learning Code Space, 720 Bathurst St
Cost: $45.00.
REGISTER NOW
Learn Programming With Ruby
Meet Ruby Robot! You'll teach her how to add and subtract, make a peanut butter sandwich and play Mad Libs with you all using code, in this hands on, full day workshop! On February 2nd join Girls Learning Code as we learn to program using the open-source coding language, Ruby! This workshop is designed to introduce beginners to coding in a fun, interactive way. We'll play code based games, solves puzzles and complete online activities to help us learn all about the language.
Workshop Details:
When: Saturday February 2nd, 2013 from 10:00am – 4:00pm
Where: Ladies Learning Code Space, 720 Bathurst St
Cost: $50.00. Before care and after care is available for an additional $20.00.
REGISTER NOW
March Break Camp 2013: Using Multimedia To Change The World
Let us show the girls in your life all the possible ways communicate her message in our first ever multimedia camp! In groups, girls will work throughout the week to create a website (using HTML and CSS and Mozilla Thimble). In addition, each day, the girls will be introduced to a different type of digital media that will help them expand their audience. They will get an opportunity to play with and explore that media, creating an addition to their message that will also be added to their website. We're going to guide them through sound and video production and editing with Mozilla Popcorn and much much more! Campers will also get a chance to visit a cool tech company to learn all about the professional world of multimedia on our field trip. Come join us on a week long adventure through the digital world of communication. Let's change the world together!
Camp Details:
When: March Break – Monday March 11th – Friday March 15th 9:00am – 4:00pm
Where: Mozilla 366 Adelaide Street West, Suite 500
Cost: $375.00 for five full days of learning (Before and after care included)
REGISTER NOW